---
Breathe Easy, Live Freely.

uHoo – The Most Advanced Indoor Air Quality Sensor.

Nine Sensor Parameters.
Now with COVID-19 Virus Index
Air Quality & COVID-19
COVID-19 is a highly infectious disease compared to its 2003 counterpart, SARS. Its health effects vary among people from having no symptoms at all to having severe respiratory distress. According to CDC reports, people with serious underlying medical conditions are "at higher risk for severe illness from COVID-19."
Scientists also found that air pollution contributes to the severity of the disease. A nationwide study, conducted by Harvard University, showed that counties in the USA with high levels of air pollution before the COVID-19 crisis have higher death rates (defined as COVID-19 deaths per total population).
Levels of the uHoo Virus Index
These levels are determined based on scientific analysis of five air quality factors which include Temperature, Relative Humidity, PM2.5, Carbon Dioxide, and Nitrogen Dioxide.
Good

: COVID-19 survival is low and airborne transmission is unlikely.

Mild

: COVID-19 survival is moderate and airborne transmission is possible but air quality poses little to almost no direct health risk for people not sensitive to air pollution.

Bad

: COVID-19 survival is prolonged and airborne transmission is likely.

Severe

: COVID-19 survival is high and airborne transmission is likely.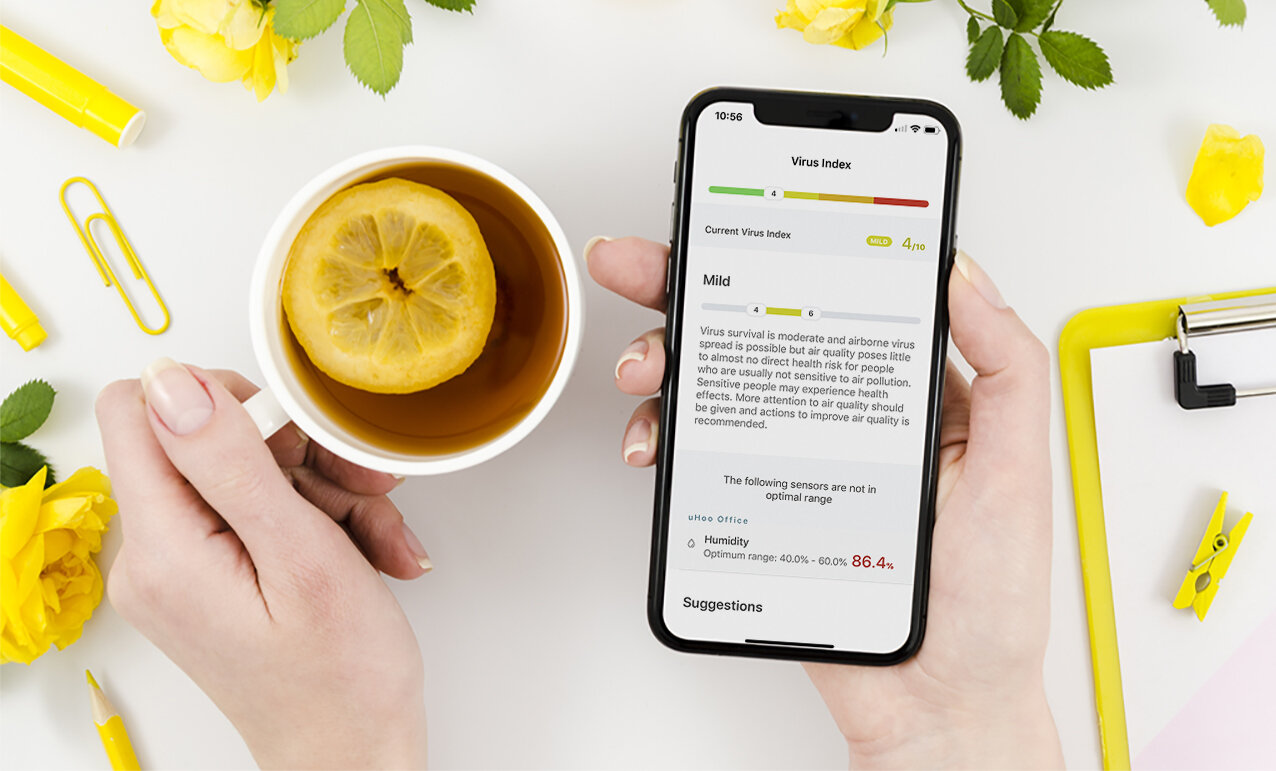 Know What You Are Breathing
We can't fight air pollution unless we understand the source.
Protect your loved ones by knowing what gases, allergens and toxins we are exposed to.
Work in peace and breathe with ease knowing the air around you is safe and healthy.
We take about 20,000 breaths each day and indoor air is two to five times worse than outdoors (Source: US EPA).
CSIRO estimates the cost of poor indoor air quality in Australia may be as high as 12 billion per year (Brown,1998).
Unless we have a problem, we don't think about what we're breathing and how that air is affecting us.
Better air matters
uHoo tracks nine air quality factors that affect your health and well-being.
Temperature: A more comfortable sleep
Humidity: Reduce moisture and prevent mould
Carbon Dioxide: Feel less nauseous and have a clearer mind
Airborne Chemicals / VOC: Know which chemicals and products to keep out
Particulate Matter (PM 2.5): Prevent Dust build up before allergies occur
Nitrogen Dioxide: Learn when to keep roadside fumes from entering
Carbon Monoxide: Avoid fatigue, chest pain and air poisoning
Ozone: Relieve throat irritation and learn which gadgets affect your health
Air Pressure: Understand why arthritic pains and headaches occur
Measure and Quantify Your Indoor Air
See everything you need with the free uHoo mobile app.
| | |
| --- | --- |
| Monitor each room | Record your respiratory conditions |
| Track your progress | Get alerts and customize notifications |
| Automatically turn on your air purifier | Share your data with family and friends |
Information at your fingertips
Access all your important data when you need it.
With the uHoo app, you can view how your habits and activities affect your home
or office then track your health, and productivity.
Specifications:

WiFi 802.11 b/g/n @ 2.4 GHz

Power Micro USB power adapter and 5V DC external power adapter

Material ABS

Security 128-bit AES encryption via SSL

Processor High-performance ARM-based

Platform Cloud-based with iOS and Android mobile applications

Dimensions 165 x 85 mm or 6.5 x 3.4 in

Weight 210 grams / 0.58 lbs